Wrinkles and Aging
George Dermatology offers a variety of cosmetic products and services to help prevent and correct signs of aging. Our treatments can soften lines and wrinkles, fade brown spots, and enhance your natural features to help promote a more healthy, youthful appearance. Dr. George understands the art of cosmetic evaluation and procedures. Her goal is to provide natural-appearing cosmetic outcomes to help you look and feel your best.

Botox Cosmetic
Botox helps to soften lines caused by repeat muscle movement such as the forehead, frown lines, and crows feet. It is a very safe and effective treatment, lasts as little as 10 minutes, and you will begin to notice the effects within 5-10 days. Botox is injected into the muscle with little to no discomfort or downtime. This helps to make it the #1 cosmetic treatment in the United States every year. Schedule an appointment with George Dermatology to reveal your more refreshed face today.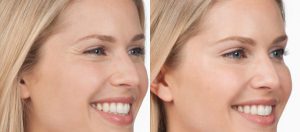 Filler
After years of sun damage and time, we lose volume in our face, resulting in lines and deeper folds. Filler is a natural hyaluronic acid, or sugar molecule, that is injected to the areas of the face to restore volume and soften lines and wrinkles. It is most commonly used to build cheekbones, fill the smile lines around the mouth, and plump lips. Most fillers last 6-9 months.
Contact George Dermatology to schedule a consultation today to discuss your concerns and see what treatment approach can help you regain a more youthful appearance.
Kybella
Kybella is the only FDA-approved injectable treatment that destroys fat cells in the treatment area under the chin to improve your profile.
How Kybella Works
The active ingredient in KYBELLA® is synthetic deoxycholic acid. Deoxycholic acid is a naturally occurring molecule in the body that aids in the breakdown and absorption of dietary fat. When injected into the fat beneath the chin, KYBELLA® destroys fat cells, resulting in a noticeable reduction in fullness under the chin. Once destroyed, these cells can no longer store or accumulate fat, so further treatment is not expected once you reach your desired aesthetic goal.
How is Kybella Administered?
Treatment can only be administered by a KYBELLA®-trained healthcare specialist. At each treatment, you will receive multiple small injections under your chin, and the injection process takes about 15 to 20 minutes. The exact number of injections will depend on the amount of fat you have under your chin and your desired profile.
How Many Kybella Sessions Will I Need?
Since everyone's chin profile is different, the number of treatments varies from patient to patient. Your skin care specialist will help determine how many treatment sessions you need based on the amount and distribution of your chin fat and your personal treatment goals. Each KYBELLA® treatment session is given at least 1 month apart, and you should not receive more than 6 treatments. In clinical studies, 59% of patients received 6 treatments.
Will I Need Time To Recover?
After KYBELLA® treatment, you will likely have some swelling, bruising, or numbness under your chin.
Peels
At George Dermatology, we offer the Obagi Blue Peel Radiance. The Blue Peel is a quick, superficial, salicylic acid chemical peel that exfoliates the skin to smooth and brighten the complexion. The Blue Peel can help improve the appearance of the following skin concerns:
Fine lines and wrinkles
Rough, uneven skin
Blemishes
Mild to moderate photo-aging
A series of 4 to 6 Blue Peels provides the best overall result. Contact George Dermatology today to schedule your appointment to get the glow you've wanted.
Sclerotherapy
Sclerotherapy is the injection of a solution to small red to purple "spider veins" on the legs to make them collapse and fade. To achieve optimal results, a series of 2 or more treatments is often necessary. Sclerotherapy remains the most effective treatment to clear these unsightly leg veins. Schedule an appointment with your board-certified Dermatologist, Dr. Mary Noël George, to get your legs looking the way you've dreamed.
Products
Beautiful, healthy, glowing skin starts with a daily regimen of care. George Dermatology offers a varied selection of medical grade skin care products to protect, prevent, and correct signs of aging. We stock products from brands such as EltaMD, Obagi, Revision Skin Care, Epionce, Latisse, as well as our own product line. We will help you customize your personal regimen to give your skin a refreshed glow.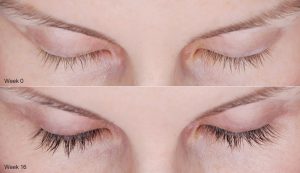 Look and Feel Younger!
Let Dr. Mary Noël George's expertise guide you on the path to looking and feeling younger. Contact us and set up an appointment so Dr. Mary Noël George can give you the personalized treatment plan that you deserve.