Wrinkles and Aging
George Dermatology offers a variety of cosmetic products and services to help prevent and correct signs of aging. Our treatments can soften lines and wrinkles, fade brown spots, and enhance your natural features to help promote a more healthy, youthful appearance. Dr. George understands the art of cosmetic evaluation and procedures. Her goal is to provide natural-appearing cosmetic outcomes to help you look and feel your best.

Botox Cosmetic
Botox helps to soften lines caused by repeat muscle movement such as the forehead, frown lines, and crows feet. It is a very safe and effective treatment, lasts as little as 10 minutes, and you will begin to notice the effects within 5-10 days. Botox is injected into the muscle with little to no discomfort or downtime. This helps to make it the #1 cosmetic treatment in the United States every year. Schedule an appointment with George Dermatology to reveal your more refreshed face today.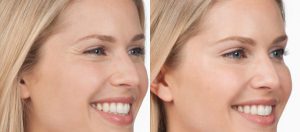 Filler
After years of sun damage and time, we lose volume in our face, resulting in lines and deeper folds. Filler is a natural hyaluronic acid, or sugar molecule, that is injected into the areas of the face to restore volume and soften lines and wrinkles. It is most commonly used to build cheekbones, fill the smile lines around the mouth, plump lips, and soften deep under eye hallows that give the appearance of "bags" or dark circles under the eyes. Most fillers last 6-9 months.
Contact George Dermatology to schedule a consultation today to discuss your concerns and see what treatment approach can help you regain a more youthful appearance.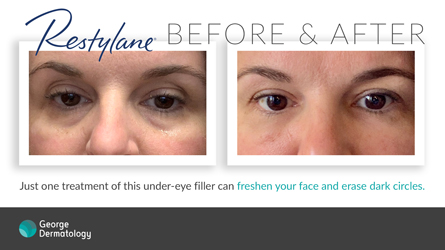 Peels
At George Dermatology, we offer the Obagi Blue Peel Radiance. The Blue Peel is a quick, superficial, salicylic acid chemical peel that exfoliates the skin to smooth and brighten the complexion. The Blue Peel can help improve the appearance of the following skin concerns:
Fine lines and wrinkles
Rough, uneven skin
Blemishes
Mild to moderate photo-aging
A series of 4 to 6 Blue Peels provides the best overall result. Contact George Dermatology today to schedule your appointment to get the glow you've wanted.